Birth and Death Certificates, Burial Permits, and other Vital Records
Vital records include birth certificates, death certificates, paternity affidavits and burial permits. The LCHD maintains records of births and deaths occurring within the Licking County Combined General Health District from 1909 to present.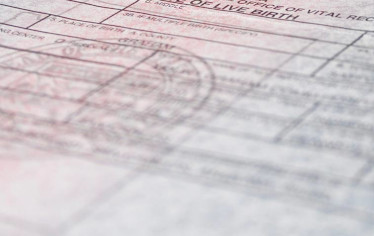 Finding Records
LCHD can now issue birth certificates for individuals born anywhere in Ohio after 1909. This eliminates the need to visit the county of birth to obtain a certificate. There is no additional charge for this expanded service. Older Licking County birth and death records from 1875 through 1908, and marriage certificates from 1875 to present, are available from the Licking County Probate Court, 1 North Park Place, Newark, Ohio 43055, (740) 670-5624.
Birth certificates have a number of important functions. You may need them when applying for a Social Security card or passport, to get a new driver's license, to enroll in school, or to be eligible for other services. Death certificates are a record of the date, place and cause of death of an individual. Death certificates are useful in genealogy research. Many requests for records come from individuals researching their family histories. Death certificates are required for survivor Social Security benefits, estates and life insurance claims. Death certificates also provide important information about the causes of death, which can be used to develop health policies and programs.
Certified birth and death records are $25.00, which includes $13.50 in state fees. Certified copies are required for most official uses of vital records. They carry the seal of the registrar and are on special security paper. To request a birth or death certificate you can visit the LCHD office at 675 Price Road, Newark, OH 43055, or fill out a Vital Record Request Form and mail it in with payment.
If you need to order a birth or death record from a different state, please click here to visit the National Center for Health Statistics website for contact information.
Marriage and divorce records are NOT maintained by the health department.
Certified copies of marriage licenses and divorce decrees can only be obtained from the county where the event was recorded. Marriage certificate copies can be obtained from the specific county probate court. For Ohio county probate court contact information we recommend visiting this listing maintained by the Franklin County Probate Court.
Divorce decrees can be requested from the specific county where it was finalized. Please visit this listing of county clerks maintained by the Ohio County Clerks Association for local clerk contact information.
Changing or Correcting a Birth Record
Information on how to change a registered birth record, which includes filing a legal name change, birth affidavit or court ordered correction, can be found on our page for Changing or Correcting a Birth Record.
Paternity Establishments
The establishment of paternity allows a father to be added to his child's birth record. For an explanation on options available, please see the Ohio Department of Health page for Establishing Paternity or visit the Ohio Paternity Enhancement Program website.
Adoption File Information
Individuals can now request a copy of their adoption file for all years of birth records maintained by the Bureau of Vital Statistics. Forms and information on how to request an adoption file can be found on the ODH page for Adoption File Information