Improving the health and quality of life for individuals, families, and communities by preventing disease, protecting the environment and promoting healthy lifestyles.
The Environmental Health Division investigates health problems and environmental public health hazards, and enforces public health laws to protect the community. "Environmental health is the discipline that focuses on the health interrelationships between people and their environment, promotes human health and well-being, and fosters a safe and healthful environment."
Our staff of highly trained professionals are eager to assist you with any issue you may have.  If you have an Environmental Health question, you can email us at environmental@lickingcohealth.org
Food, Camp, Pool, and Body Art Inspections
View inspection records for restaurants and grocery stores, campgrounds, body art/tattoo facilities, and public pools.
Sewage, Plumbing, and Well Permits
Sewage, well and plumbing permits for homes in Licking County can be viewed by searching our database.
Environmental Health Regulations
View state laws and regulations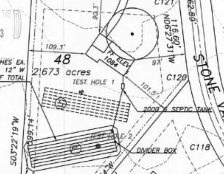 Sewage Treatment
LCHD prevents disease transmission and protect the quality of our surface and ground water by performing installation and operation inspections, enforcing the state sewage regulations, and providing education to homeowners.
Anyone purchasing a lot, or building on a lot, should have the site evaluated early in the process. Sewage system designs are based on site specific soil characteristics to protect ground and surface water resources, protect residents from exposure to sewage-borne disease, and reduce system failure in the future.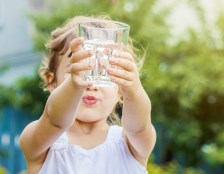 Private Water Systems
Access to safe drinking water is a fundamental public health need for communities to prevent water-borne disease and illness.
Private water systems, including wells, cisterns, hauled water storage tanks, and ponds used for drinking water are regulated by the Ohio Private Water Systems Regulations (Ohio Administrative Code 3701-28). A permit must be issued by the health department prior to installing or altering a private water system. Well logs may also be available from ODNR.
Well Disinfection Factsheet for Homeowners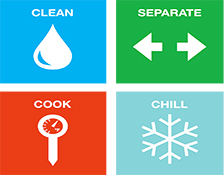 Food Safety Program
LCHD sanitarians are responsible for conducting plan reviews, complaint investigations and food safety assessments of food service establishments such as restaurants, grocery stores, school kitchens and caterers to assure food safety and prevent foodborne illness.
The Food Protection Program promotes healthy people and healthy communities through education and regulation of food service establishments. In Licking County, there are over 650 licensed food establishments, including restaurants, convenience stores, coffee shops, concession trailers, food vending machines, temporary food sales at events, delis and grocery stores. Each of these establishments has owners, managers and employees who are expected to handle food safely to prevent disease and comply with state regulations. Our sanitarians inspect these establishments an average of twice a year -- more if needed. They also offer educational sessions for food handlers.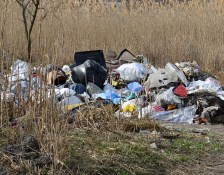 Solid Waste
Licking County and the State of Ohio have regulations which require that solid waste, including garbage, appliances, furniture, yard waste, construction and demolition materials and tires be disposed of properly.
LCHD works with the CFLP Solid Waste District, the Licking County Sheriff's Department, and the Licking County Litter Prevention and Recycling Office to enforce solid waste regulations, prosecute violators and clean-up properties when necessary. Complaints may be filed by calling (740) 349-6475, or by submitting an on-line complaint form.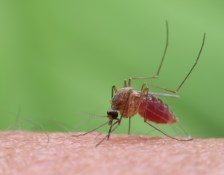 Mosquito/Vector-Borne Disease Control
Mosquitoes can carry diseases that are spread to man and animals. These diseases are sometimes fatal. In Ohio mosquitoes may be infected with the virus that causes one of these diseases: Lacrosse Encephalitis, St. Louis Encephalitis, Eastern Equine Encephalitis and West Nile Encephalitis.
LCHD practices an integrated pest management (IPM) approach to mosquito control. This includes trapping for adults, dipping for larvae, treating standing water with larvicide, draining breeding sites when possible, and spraying to kill adults when needed.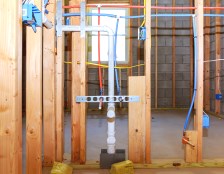 Plumbing Program
Plumbing is an important part of the sanitary waste disposal system in any building. Plumbing installed improperly can result in back-ups, leaks, environmental pollution, explosion and other hazards. To protect the health and safety of the residents of Licking County, a plumbing permit is required for all new residential and commercial plumbing installed. Plumbers must be registered with the Health Department before conducting business in the county.
For information about plumbing permits, to check the registration status of a plumber, schedule an inspection, or to get other information about our plumbing program contact our inspectors between 8 and 10 a.m. at (740) 349-6475. Our fax number is (740) 349-6935. Inspection requests may also be left via voicemail and email at environmental@lickingcohealth.org after hours.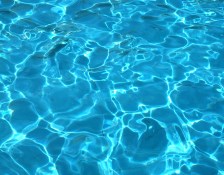 Pools, Spas, Spraygrounds, Water Parks, and Beaches
LCDH licenses and inspects public swimming pools, spas, spraygrounds and bathing beaches to ensure safe and sanitary conditions at these facilities. Pools are tested for chlorine or other disinfectant levels, pH, total alkalinity, cyanuric acid, water clarity and other parameters. Facilities are also checked to make sure all equipment is operating properly, required safety equipment is present, life guards (if required) are certified, and that there enough guards on duty. Summer pools are usually checked every two weeks during the operating season. Indoor pools are checked less often, but throughout the entire year. View our Pool Inspection Database.
Bathing beaches are inspected for safety compliance and water samples are collected and analyzed for bacteria to determine if the water quality is acceptable for swimming.
State Park beaches are monitored by the Oho Department of Health .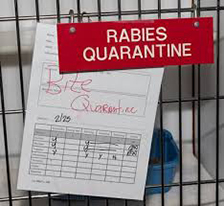 Rabies Control/Animal Bites
Ohio law requires that an animal bite incident report should be made to the health commissioner in the local health jurisdiction where the bite occurred (Ohio Administrative Code 3701-3-28) when a person is bitten by an animal, specifically mammals. This report should be made within 24 hours of the bite.
Rabies is a preventable viral disease of mammals most often transmitted through the bite of a rabid animal. The vast majority of rabies cases reported to the Centers for Disease Control and Prevention (CDC) each year occur in wild animals like raccoons, skunks, bats and foxes. Ohio law requires all dogs and cats that bite someone be quarantined for 10 days after the bite; if they are healthy at the end of the 10 days they must have a current rabies vaccination prior to release from quarantine. Animal bites should be reported to LCHD at (740) 349-6535 or by Faxing the completed report form to (740) 349-6935.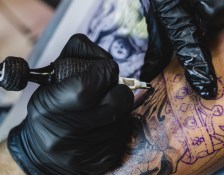 Body Art (Tattoo and Body Piercing)
The LCHD regulates the operation and maintenance of body art facilities in order to protect the public from injury, minimize the potential for disease transmission, and provide a safe and healthy environment.
In Section 3730.02 of the Ohio Revised Code. It states "No person shall do any of the following:
Operate a business that offers tattooing or body piercing services unless a board of health has approved the business under Section 3730.03 of the Revised Code;
Perform a tattooing or body piercing procedure in a manner that does not meet the safety and sanitation standards established by this chapter and the rules adopted under Section 3730.10 of the Revised Code;
Perform a tattooing procedure, body piercing procedure, or ear piercing procedure with an ear piercing gun in a manner that does not meet the standards for appropriate disinfection and sterilization of invasive equipment or parts of equipment used in performing the procedures established by this chapter and the rules adopted under Section 3730.10 of the Revised Code."
We recommend that you always ask to see a permit if you are unsure if the facility is licensed. A licensed facility is required to show the public if requested. This includes cosmetic procedures, such as microblading.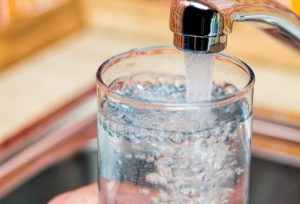 Water Sample Pricing
Bacteria (Total Coliform and E. coli) $25
Arsenic - $27
Nitrates / Nitrites - $68
Fluoride - $26
Lead - $27
New Build - cost was included in the permit
A trip charge of $35 will be added to the cost above.
Water Samples
Licking County Health Department performs water samples on new & existing private water systems. Once your information is filled out and completed, our office will contact you to confirm the appointment. Please allow 1 business day for our office to contact you. We perform water samples Monday - Wednesday 12:00 PM - 4:00 PM and Thursday 10:00 AM - 2:30 PM. Once the sample is taken, the results are normally received within 3-4 business days, certain testing parameters may take longer. All results will be provided to you via email unless it is requested otherwise. If you have any questions or concerns please call 740-349-6475 or email environmental@lickingcohealth.org.
WE DO NOT COLLECT SAMPLES ON PUBLIC WATER SYSTEMS.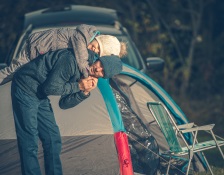 Campground Program
Campgrounds include resident camps, recreational vehicle (RV) parks, combined park-camps, and temporary campgrounds. LCHD licenses camps, and inspects the operation and maintenance of these facilities in order to protect the public from injury, minimize the potential for disease transmission, and provide a safe and healthy recreational environment.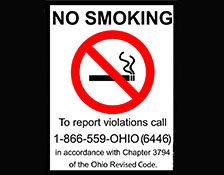 Ohio's Smoke-Free Workplace Act
The LCHD investigates indoor smoking complaints received through the Ohio Department of Health. Chapter 3794 of the Ohio Revised Code prohibits all forms of tobacco smoke in all enclosed public places and places of employment and in areas immediately adjacent to the ingress or egress of the public place or place of employment. While immediately adjacent is not yet defined, proprietors must assure smoke does not enter the area where smoking is prohibited through entrances, windows, ventilation systems or other means.
Report Violations: 1-866-559-OHIO, or NoSmoke@odh.ohio.gov