Community Health Assessment Reports
LCHD tracks the health status of the community to better inform decisions about the public health services and programs that we deliver. The statistics that we monitor allow us to implement data driven responses to disease outbreaks and emerging health challenges, and to identify health disparities. Highlights from the Community Health Assessment which is conducted every 3 years and updated annually. The current CHA report dashboard is located below.
Overdose Fatality Report
The Licking County Health Department recently released their report on 2020 overdose deaths based on data compiled by the Licking County Drug Overdose Fatality Review Board. In 2020 there were 47 unintentional overdose deaths that occurred within Licking County, up from 36 in 2019, a 30.6% increase.
Fentanyl is a synthetic opioid that is 80-100 times stronger than morphine, and 50 times more potent than heroin, and was responsible for the increase in deaths. See the 2020 Licking County Overdose Fatality Report.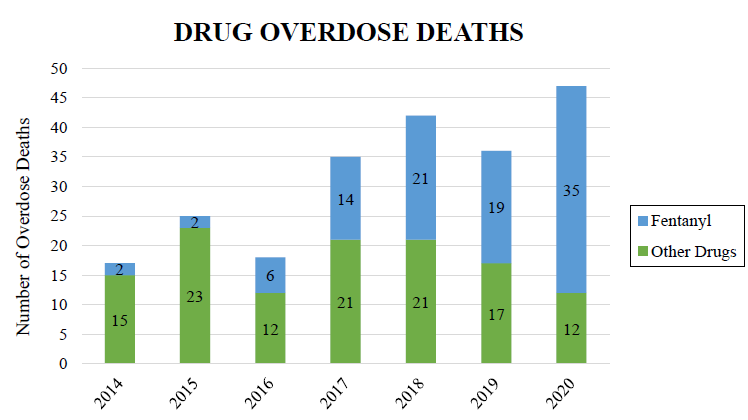 Life Expectancy
As this map generated from U.S. Small-area Life Expectancy Estimates Project (USALEEP) data illustrates, there is a 14.9-year difference in life expectancy within Licking County. Many of our communities have life expectancies below the average for Ohio of 77.9 years, and well below the national average of 79.1 years.
The areas where the greatest health disparities are found are located in the city of Newark, with the lowest being 69.4 years. These areas are home to large numbers of lower income residents, many living in rental housing, lacking reliable transportation, lower graduation rates, higher smoking rates, less healthy food options, and other factors that contribute to this disparity.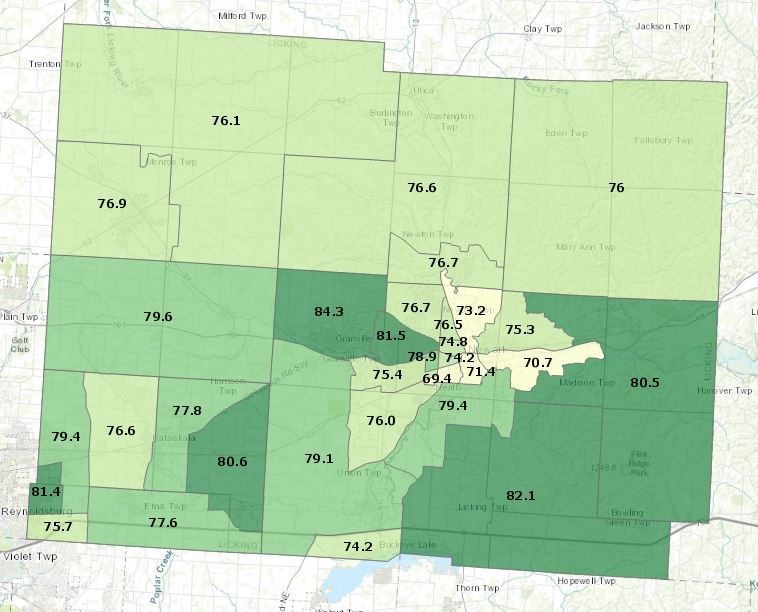 Cancer Rates in Licking County
The leading sites/types of cancer incidence in Licking County in 2012-2016 were lung and bronchus, female breast, prostate, colon andrectum, and melanoma of the skin, representing 55 percent of all invasive cancer cases.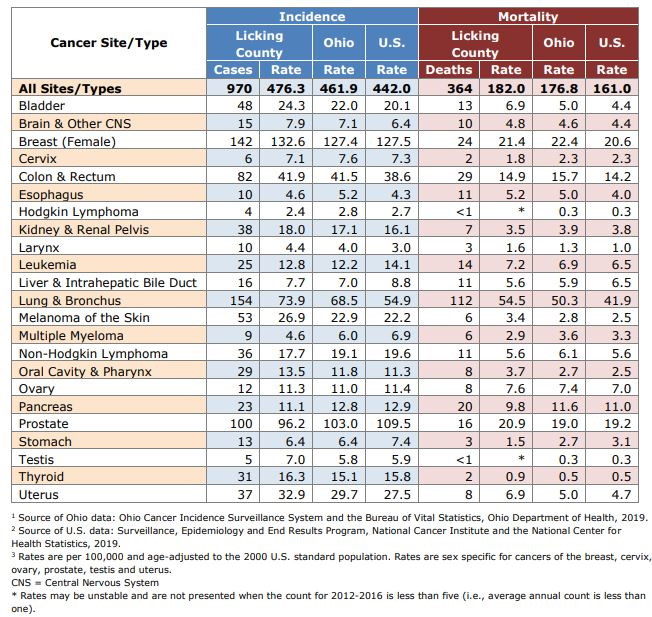 Percentage of Cancer Deaths by Site/Type for the Top Five Cancers in Licking County, 2012-2016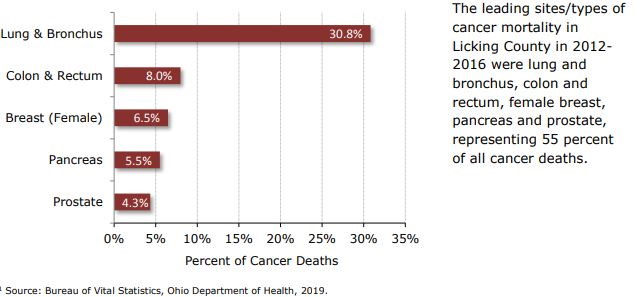 Did You Know?
Tobacco use is associated with 12 types of cancer. Nearly one-third of all cancer deaths could be prevented by eliminating tobacco use. Ready to Quit?
Overweight and obesity are associated with at least 13 types of cancer. One-fifth of cancer deaths could be prevented by adopting healthy diet and exercise practices.