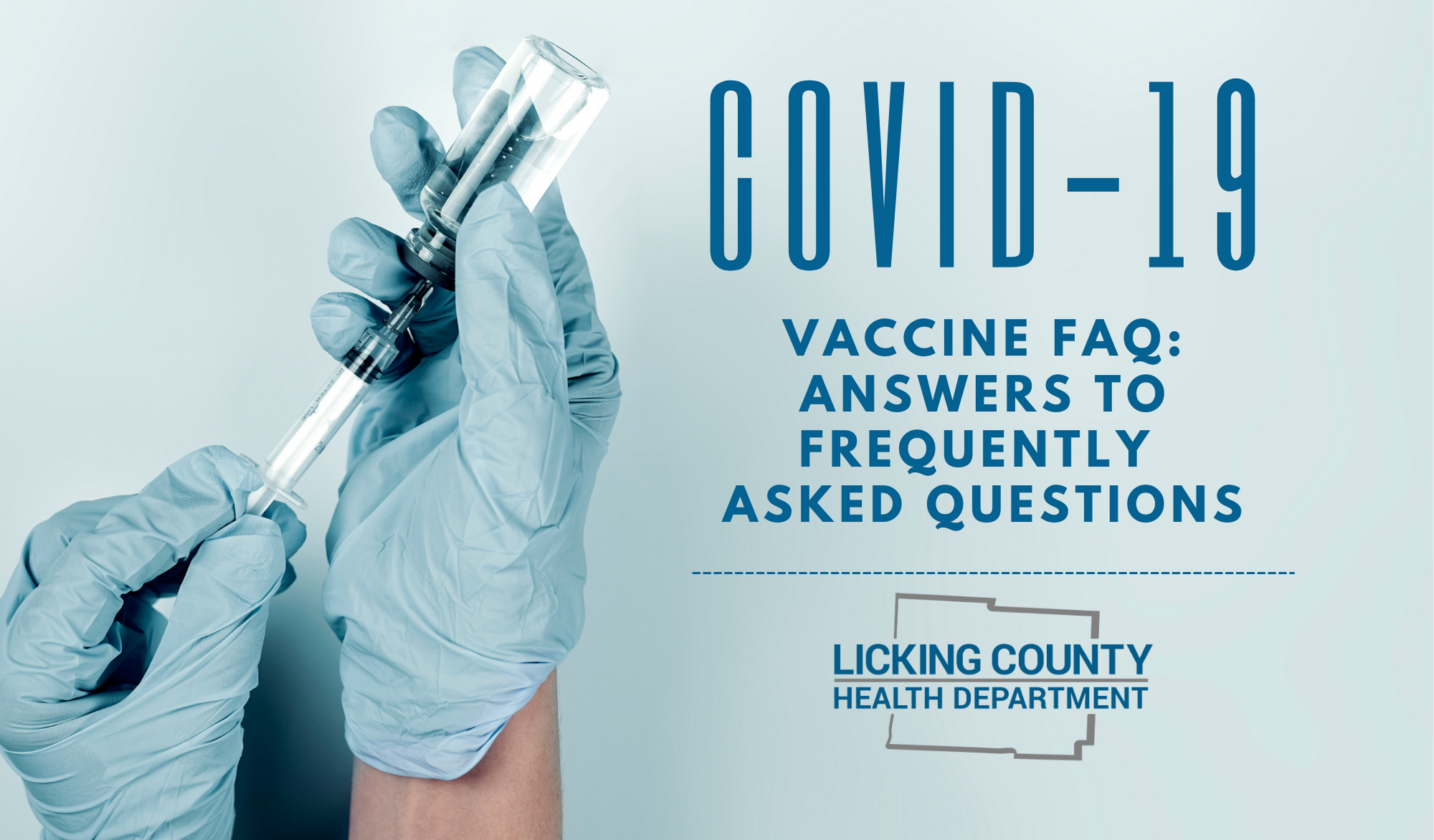 COVID-19 Vaccine Frequently Asked Questions
SCHEDULING AN APPOINTMENT
How do I schedule an appointment for the COVID vaccine?
When vaccine appointments are available though LCHD, individuals can schedule an appointment on a computer or smart phone using our online registration system.
How will I know when you are taking appointments?
What if I do not have a computer?
LCHD is working with community partners to assist individuals without a computer or internet access with scheduling appointments. You may leave a message on our COVID-19 Vaccine Hotline at (740) 670-0949 for assistance. More information on this issue will be made available soon.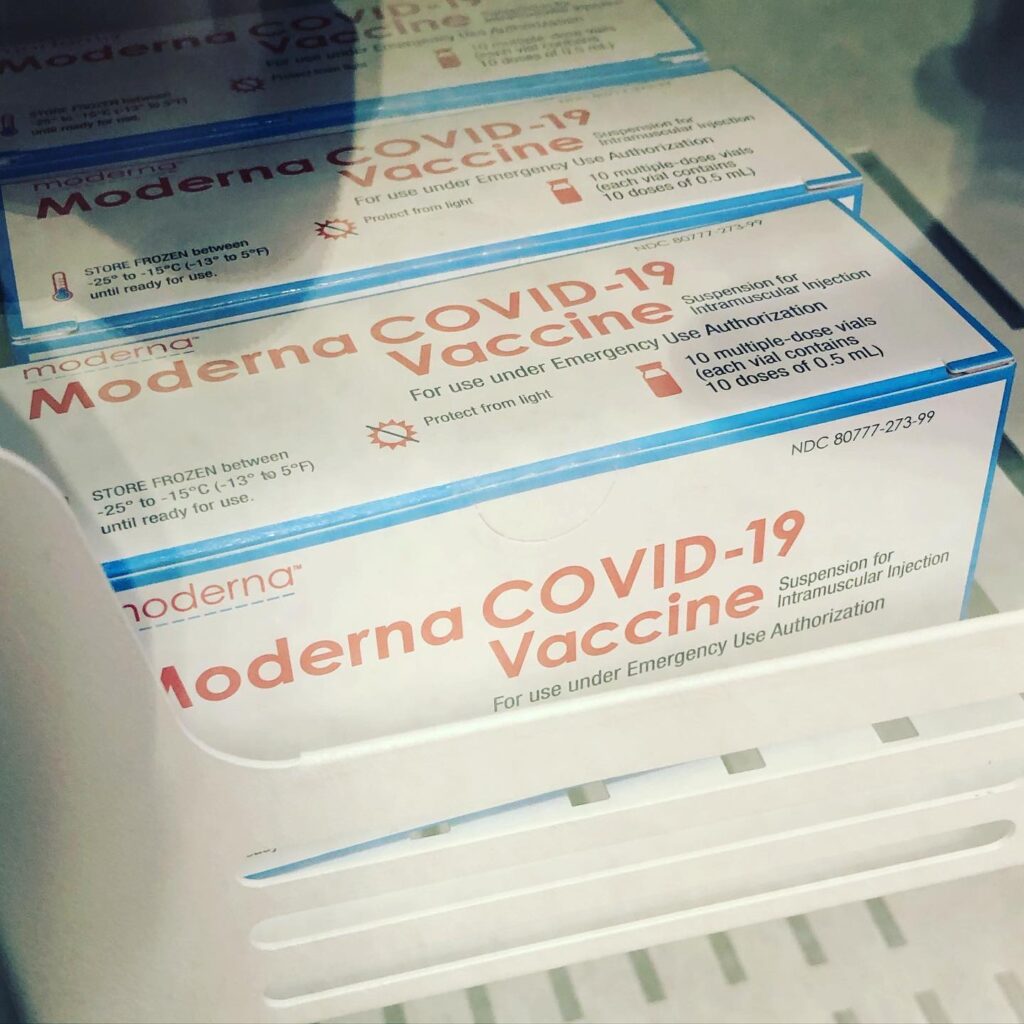 How do I know if my online registration went through?

Individuals who successfully register for an appointment will receive a confirmation email with all the appointment details and a confirmation number.
E-mails may go to junk or spam folders. Be sure to check these folders after registering.
If you do not receive a confirmation number at the end of completing the online registration form, all appointment slots have been filled. If the registration form does not let you choose a date or time, all appointment slots have been filled.
Can I be added to a wait list? What if someone cancels – what happens to that appointment? 
This is monitored closely. LCHD staff works hard to not prepare more doses than needed during our clinics. Therefore, we do not have a wait list.
WHO IS ELIGIBLE?
Who is eligible to receive the COVID vaccine?
Individuals age 16+ are eligible to receive the COVID-19 vaccine.
All minors need to have a parent/guardian present with them at the vaccine clinic. If a minor arrives with an adult who is not their parent/guardian, they need to provide a written statement from the parent/guardian granting permission for the vaccine.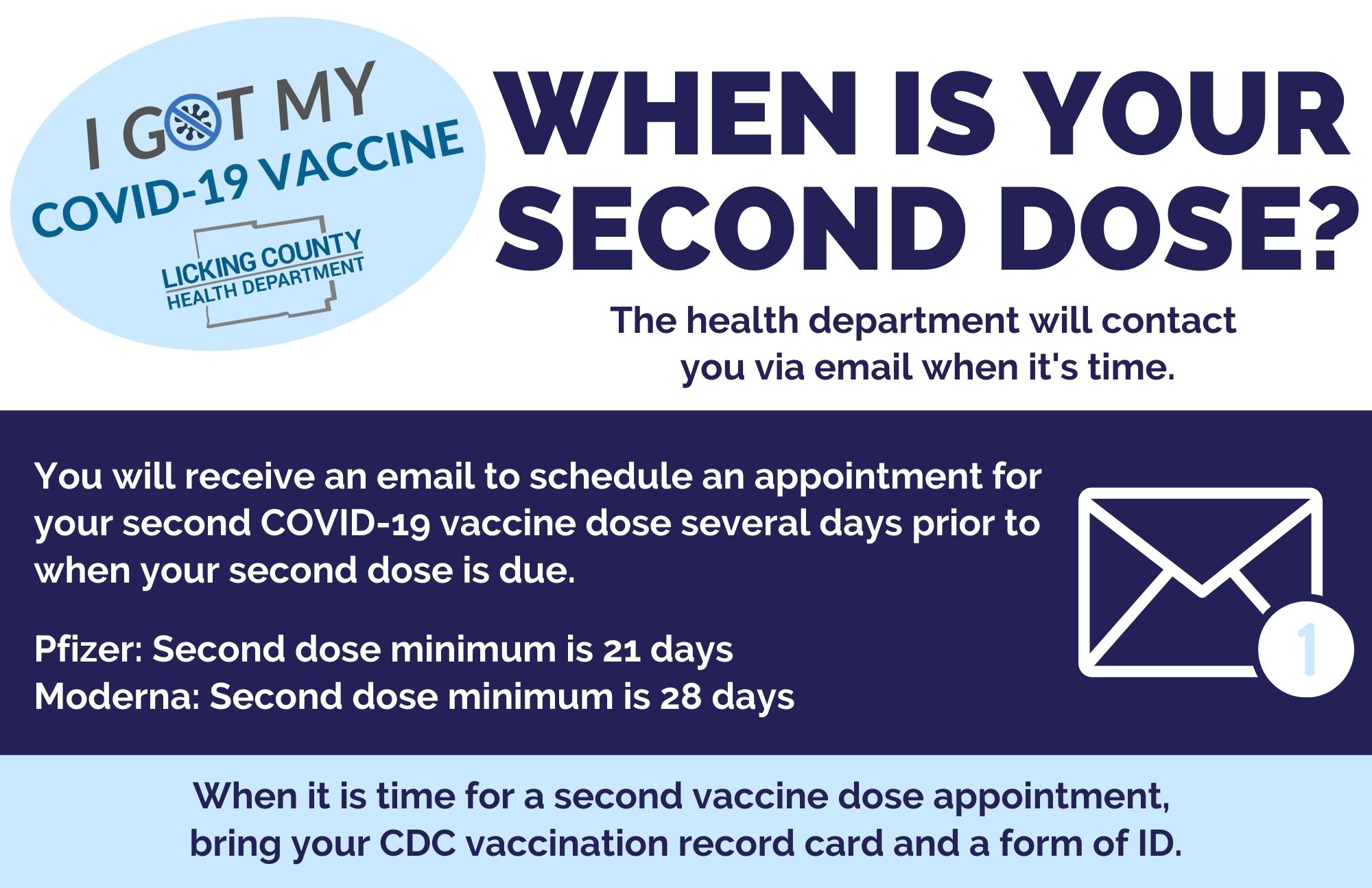 SECOND DOSE INFORMATION
What if I'm due for my second dose?
If you received Pfizer, you cannot receive a second dose vaccine any sooner than 21 days after your first dose.
If you received Moderna, you cannot receive the vaccine any sooner than 28 days.
LCHD will notify you via email at around day 21 when the correct vaccine is available with a clinic date and time for your second.
How will I be notified about my second dose?
Individuals who registered via the COVID-19 Online Scheduler and received their first COVID-19 vaccine does from LCHD will be contacted via an email around day 21 with clinic information for their second dose.
I got my first dose somewhere else, can I schedule my second dose with LCHD?

At this time, we don't have enough vaccine to provide second doses to individuals who did not receive their first dose from LCHD.
What if I can't make it to the second dose clinic date/time I am sent?
If you are unable to attend to the first scheduled second dose clinic, individuals will get a second and third email notification for another date. There is no need to call LCHD to cancel or reschedule.
What if I forget/lost my CDC vaccination record card for my second dose?
LCHD will provide you with an updated card at the clinic when you inform us that you forgot or lost your first dose record card.
My spouse and I had appointments on the same date, but we were only given one (1) second dose appointment?
This is likely due to the fact that you and your spouse listed the same email address on your registration form. If you received the notice for a second dose, you and your spouse should attend the clinic at the specified time.  If your assigned time is different than your spouse's assigned time, both may attend at the same time.
GENERAL VACCINE INFORMATION
Which vaccine will I receive?
LCHD is an approved vaccine distributor and we have received vaccine from all FDA EUA approved manufacturers (Moderna or Pfizer. Johnson & Johnson/Janssen distribution is temporarily paused). However, due to availability of the vaccines, we cannot guarantee which vaccine will be provided to you until the day you arrive for your scheduled clinic.
My phone number or email has changed, or I am not sure if it is correct. How can I verify?
If I can't make my appointment, how do I cancel?
You can cancel your appointment through the e-mail notification you received from LCHD's COVID-19 Online Scheduler.
I lost my CDC Vaccine Record Card, how do I get a new one?
Your doctor has access to the state-wide database with COVID-19 vaccine information and can provide you a record of vaccination. Or, if you received your COVID-19 vaccine from LCHD, email coronavirus@lickingcohealth.org with your name, date of birth, and phone number and LCHD will email your immunization record to you. We work on these requests at a first-come, first-served basis so please be patient for a reply.
What are the other COVID-19 Vaccine Providers in Licking County?
To view a list of all vaccine providers in Licking County CLICK HERE.
Sign up to receive public health announcements and alerts