Licking County COVID-19 Data as of 02/28/21:
Today, there are 18 new COVID-19 cases in the Licking County Health Jurisdiction. Yesterday there were 35 new cases within 24 hours.
LCHD is reporting 9,726 cumulative confirmed COVID-19 cases in the Licking County Health Jurisdiction. In addition, there are 3,863 cumulative probable cases, 13,055 recovered and closed cases, and 181 COVID-19 deaths. The average age of all COVID-19 deaths in the Licking County Health Jurisdiction is 76 and ranges from 34-103.
There are 353 total active cases today. Yesterday's reported active case total was 370. There are 4 current hospitalizations.
Click this link to learn more about the COVID-19 case definitions for probables, recovered, closed, and deaths, and to learn about Licking County's reported data here.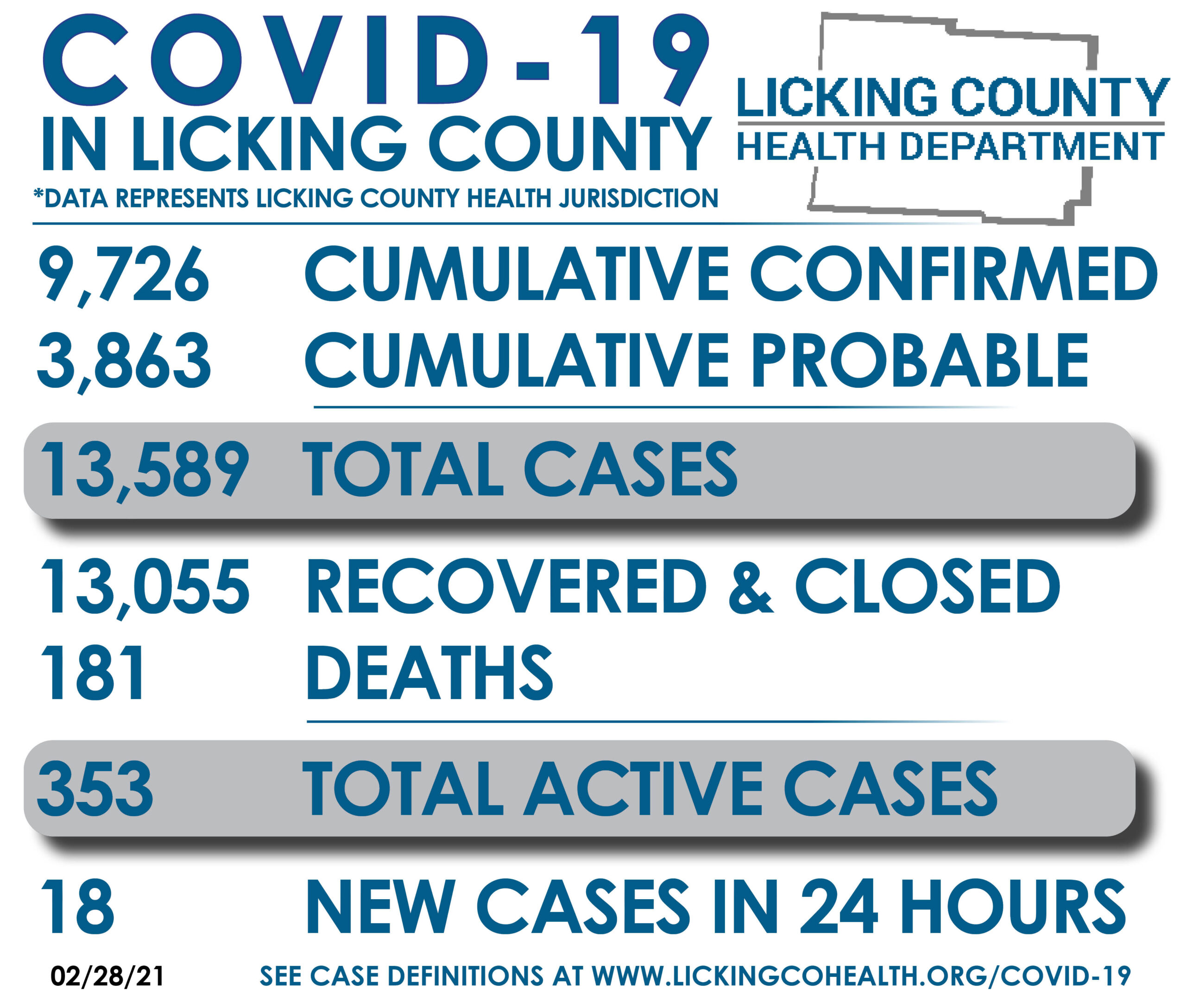 LCHD's Weekly COVID-19 Epidemiology Report
Need a COVID-19 test? Find a testing location near you.
Submit a business compliance complaint
Updates and Press Releases
Read LCHD's COVID-19 Press Releases and Updates
Active Case Totals by Zip
Licking County ZIP Code COVID-19 Data as of 02/26/21:
LCHD publishes COVID-19 Zip Code mapping data weekly which represents ACTIVE CASES (not cumulative) of individuals who live in the Licking County health jurisdiction and are currently testing positive for COVID-19. LCHD acknowledges that ODH reports cases by county and not by health jurisdiction.
The cases belonging to each zip code are color-coded based on the total active number of COVID-19 cases belonging to Licking County's health jurisdiction as of February 26, 2021.
Please note: Zip Codes may overlap county boundaries and the information presented maps cases of individuals who live in the Licking County health jurisdiction. Zip Codes labeled white do not have residents with COVID-19 cases within Licking County boundaries. More cases may be present in a particular zip code but belong to another health jurisdiction.
LCHD color-codes the zip code level data by using the natural breaks (or Jenks) classification method. The method uses an algorithm to group values into classes that are separated by distinct break points. This is an appropriate method for mapping Licking County cases due to the uneven distribution amongst cases within each zip code. Also note that the scale and color coding for zip codes will change during each update.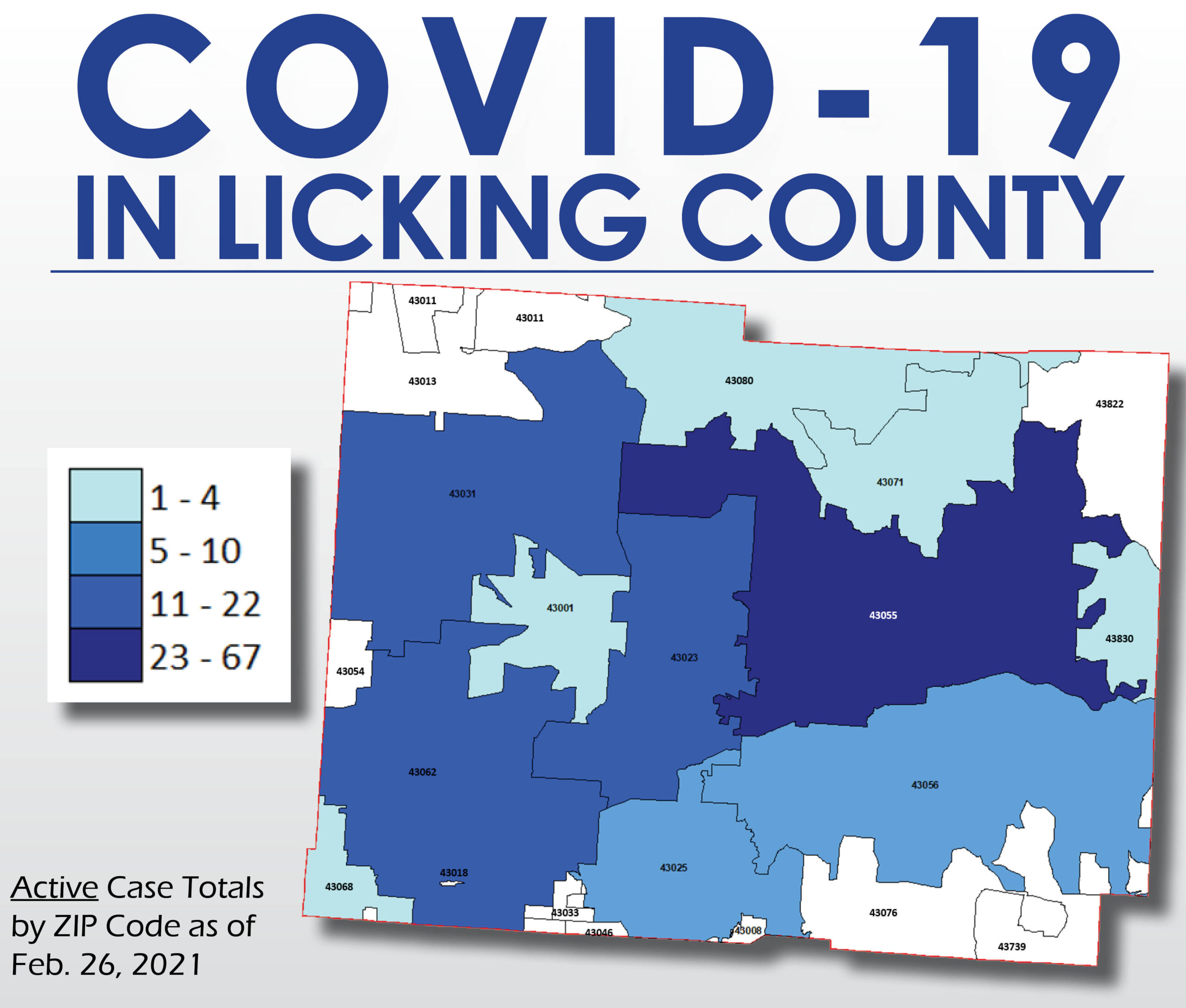 Licking County COVID-19 Active Case Totals by ZIP
43001: 1
43008: 0
43011: 0
43013: 0
43018: 0
43023: 15
43025: 6
43030: 0
43031: 19
43033: 0
43046: 0
43054: 0
43055: 67
43056: 10
43062: 22
43068: 2
43071: 3
43076: 0
43080: 4
43147: 0
43721: 0
43739: 0
43740: 0
43822: 0
43830: 3
COVID-19 Vaccine Distribution Information
The Licking County Health Department (LCHD) recently launched our COVID-19 vaccine online registration system. When vaccine appointments are available, a link is provided on the homepage of our website stating that there is appointment availability. Keep up to date with vaccination clinic details by checking our social media platforms, website, local media partners, and signing up for our email newsletters.
Vaccination appointments will be scheduled as the vaccine supply allows. Due to the limited supply, vaccinations will only be provided to those with appointments.
Our COVID-19 Question hotline will continue to be operational to answer questions between 9 am and 3 pm, Monday through Friday at (740) 670-0949. If individuals call between 9 am and 3 pm on a weekday, they will be asked to hold for the next available representative to assist in answering COVID-19-related questions.
Who is Eligible for a COVID-19 Vaccine?
Individuals age 65+ are eligible to receive the COVID-19 Vaccine.
Individuals with specific qualifying medical conditions in Ohio's Phase 1B vaccination group are permitted to be vaccinated. Those who self-identify as having one of the conditions listed below in the Phase 1B Medical Conditions sheet are eligible. To qualify, individuals must be Ohioans born with or who have early childhood medical conditions that were carried into adulthood.
The medical conditions included are:
• Sickle cell anemia
• Down syndrome
• Cystic fibrosis
• Muscular dystrophy
• Cerebral palsy
• Spina bifida
• People born with severe heart defects, requiring regular specialized medical care
• People with severe type 1 diabetes, who have been hospitalized for this in the past year
• Phenylketonuria (PKU), Tay-Sachs, and other rare, inherited metabolic disorders
• Epilepsy with continuing seizures; hydrocephaly; microcephaly, and other severe neurological disorders
• Turner syndrome, fragile X syndrome, Prader-Willi syndrome, and other severe genetic disorders
• People with severe asthma, who have been hospitalized for this in the past year
• Alpha and beta thalassemia
• Solid organ transplant candidates and recipients
Second Vaccine Dose Information
Individuals who registered via the COVID-19 Hotline and received their first COVID-19 vaccine dose from the Licking County Health Department (LCHD) will be contacted via text or voice message based on the phone number on their initial registration form with clinic information for their second vaccine dose.
Individuals who registered via the COVID-19 Online Scheduler and received their first COVID-19 vaccine dose from LCHD will be contacted via an email with clinic information for their second vaccine dose.
Per the CDC, the second dose of Pfizer and Moderna COVID-19 vaccines may be scheduled for administration up to 6 weeks (42 days) after the first dose. If the second dose is administered beyond these intervals, there is no need to restart the series.
LCHD's Second Dose Vaccine Registration Form here.
Licking County COVID-19 Vaccine Providers
Find a complete list of COVID-19 Vaccine Providers in Licking County.
The LCHD COVID-19 Contact Tracing Process
The health department begins contacting positive COVID-19 cases once official laboratory results are received; this can be between one to three days after you are notified by your healthcare provider. At that time, health department staff notify the positive case via a phone call or mailed letter detailing the dates of their isolation period and other isolation information.
Once the confirmed case is contacted by our staff, we remind them to reach out to anyone they were near in the two days prior to symptom onset and ask them to begin self-quarantining for 10 days, and we ask for the individual's close contacts. If contacted via a letter, we ask the positive case to call us with the names of their close contacts so formal quarantine letters can be issued to those individuals.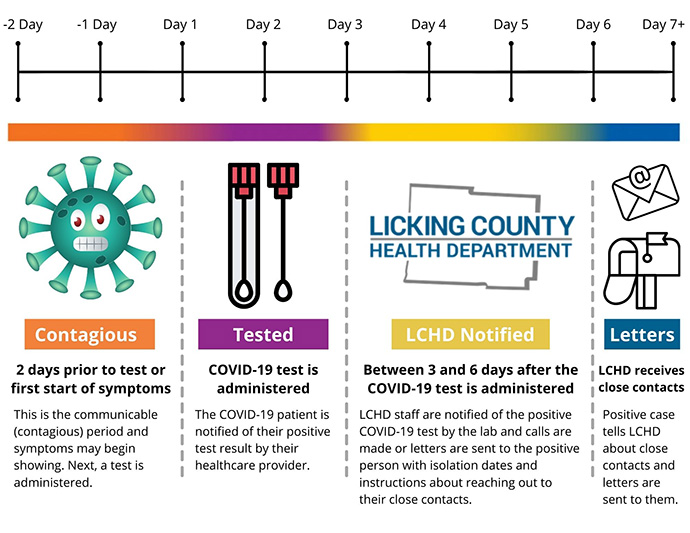 Once LCHD is informed of the close contacts from a positive COVID-19 case, we issue an official quarantine letter to the close contacts via email or mail with the dates of their quarantine period dates and other quarantine information.
If you are expecting a quarantine or isolation letter from LCHD via email, please check your junk and spam email folders before calling to follow up.
If you are identified as a close contact of a person with COVID-19, please quarantine for 10 days from your last exposure to the individual with COVID-19. Self-quarantine may end when 10 days have passed since your last contact to the person with COVID-19 as long as you have not had any symptoms.
Read more about the contact tracing process here.
Testing
If you are sick, stay home. Call a health care professional if you develop a fever or symptoms of respiratory illness -- such as cough or shortness of breath.
Click HERE to find where to get a COVID-19 test.
LCHD COVID-19 Response
We have been working with the Ohio Department of Health, local health care providers, first responders, emergency management agency, schools, local officials, and many other groups to provide guidance and planning assistance to prepare for and respond to COVID-19's impact on our community. We are doing contact tracing, coordinating testing, and issuing quarantine and other orders when needed.
For general COVID-19 questions , call the ODH hotline at 1-833-4-ASK-ODH (1-833-427-5634) or visit www.coronavirus.ohio.gov.
The Licking County Health Department strives to protect the privacy of the individual until we believe it is important to let the community know. Data is updated regulary to keep the public informed of disease trends for COVID-19 as well as monthly updates for other reportable diseases.
Stay at Home Order and Responsible Restart Ohio
Under the Stay at Home order issued by the Director of the Ohio Department of Health, restrictions on gatherings, workplaces, and activities are in place to limit the transmission of disease. The Licking County Health Department has been flooded with complaints about businesses that are not protecting the health and safety of their employees or customers. Guidance Document.
Information on COVID-19, fact sheets, checklists, and information for employers and the public can be found at www.Coronavirus.ohio.gov.
The Licking County Health Department has begun sending warning letters and conducting site visits at businesses where complaints have been received or who do not appear to meet the safety criteria.
Businesses and Operations and businesses engaged in Minimum Basic Operations must take proactive measures to ensure compliance with Social Distancing Requirements, including where possible:
"Maintaining at least six-foot social distancing from other individuals, washing hands with soap and water for at least twenty seconds as frequently as possible or using hand sanitizer, covering coughs or sneezes (into the sleeve or elbow, not hands), regularly cleaning high-touch surfaces, and not shaking hands.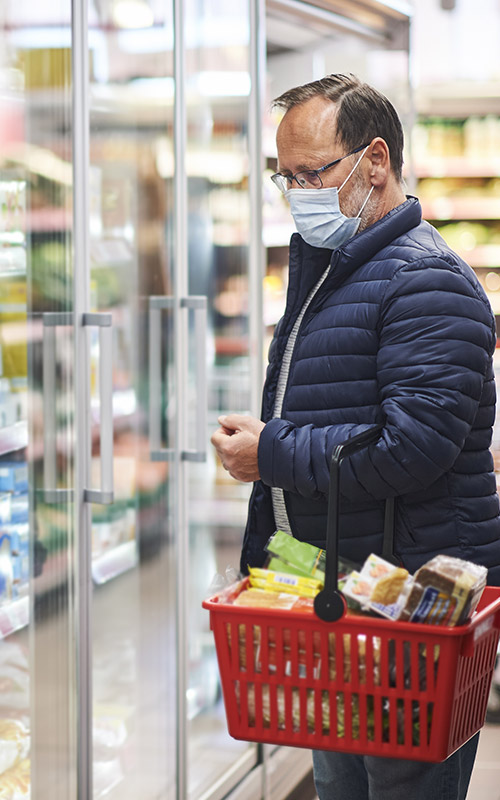 Additionally, the order requires the items below where possible:
1. Designate six (6) foot distances. Designating with signage, tape, or by other means six foot spacing for employees and customers in line to maintain appropriate distance;
2. Hand sanitizer and sanitizing products. Having hand sanitizer and sanitizing products readily available for employees and customers;
3. Separate operating hours for vulnerable populations. Implementing separate operating hours for elderly and vulnerable customers; and
4. Online and remote access. Posting online whether a facility is open and how best to reach the facility and continue services by phone or remotely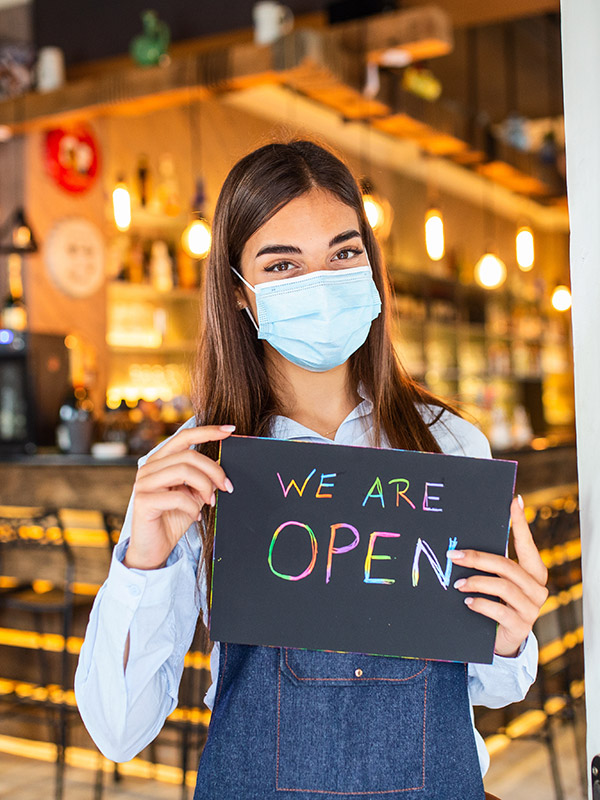 The Director's Order may be enforced by the Health Department or State and local law enforcement.
Employers are encouraged to visit www.coronavirus.ohio.gov and read the Stay at Home Order and to consult with their legal counsel or their professional or trade associations for interpretive guidance.
It is important to remember that the intent of this Order is to ensure that the maximum number of people self-isolate in their places of residence to the maximum extent feasible, while enabling essential services to continue, to slow the spread of COVID-19 to the greatest extent possible. Your role as an employer in slowing the spread of this illness will not only protect the health of your workers and customers but will ultimately save lives.
If you need to file a complaint or have a question please Email Us. Please do not call the office at this time.
Being classified as "probable" means a patient has symptoms consistent for COVID-19 and an epidemiological link to a confirmed case, but do not have confirmatory laboratory evidence for COVID-19.
Being classified as "closed" means LCHD has made multiple attempts and is unable to contact and verify the individual is recovered. In addition, Long-Term Care residents have been labeled "closed" as each long-term care facility evaluates these patients in a closed-care setting. See the ODH Dashboard for information on active vs. closed long-term care residents in Licking County here.
Being classified as "recovered" means LCHD has followed up with the case and evaluated them against the CDC guidelines for end of isolation, as they are no longer considered contagious.
Definitive cause of death can take weeks to determine. LCHD does not make determinations on COVID-19 deaths. ODH determines COVID-19 deaths after reviewing death certificates. Data displayed illustrates current status.
COVID-19 Business Toolkit
Sign up to receive public health announcements and alerts